HP the new print giant
Ask anyone with even the smallest insight into the commercial printing industry, who the leading suppliers of technology are and the names most likely to roll of the tongue might be Heidelberg, Manroland, Komori, Ryobi or KBA. On the prepress plate preparation side, they might mention Kodak, Fujifilm and Agfa. Someone with insight into the burgeoning label printing sector would mention presses made by Swiss Gallus (part of Heidelberg), Danish Nilpeter or the US Mark Andy.
Such companies and others have for decades dominated the development and supply of 'heavy metal' printing presses and ancillary equipment, needed to constantly produce the books, catalogues, brochures, advertising, business cards, signage, packaging, labels etc., so essential for the success of manufacturing, FMCGs, B2B, information and marketing.
As with so many industries, things change fast in the high-technology digital world. To illustrate how the industry's traditional leader, Heidelberg, has changed; its shares peaked at over €44 in 2001, following its stock exchange listings in 1998. At time of writing they trade at €2.46 and even went below €1 in 2013. Heidelberg worldwide sales peaked in 2001 at €5.3 billion and in 2015 were down to €2.5 billion following years of massive restructuring and job lay-offs.
Over a very similar time-frame, one company has gone from strength to strength in the commercial printing industry and is now its largest supplier in dollar terms – Hewlett Packard (HP). For the first time in its history, this year's quadrennial 'Drupa' exhibition in Düsseldorf, Germany, did not have Heidelberg as its largest exhibitor – it was HP.
From garage to global powerhouse
How did this tech company founded in 1939 by Bill Hewlett and Dave Packard from a garage in Palo Alto, California, come to be so dominant in the printing sector? Its milestones include the world's first programmable pocket calculator in 1974, some of the earliest PC computers in 1980, the first touch-screen computers and portables in the mid-1980s and, courtesy of its close association with Canon, laser and inkjet printers that came to dominate the office market.
The transition of HP's office printer success into commercial printing began in 2000 when it bought a 13.8% stake in Israeli digital press manufacturer Indigo, along with its installed base of around 1,000 presses and consumable ink business using 'Electroink' liquid toner. A little over a year later – and soon after its $25 billion takeover of Compaq computers – HP acquired all the remaining shares in Indigo for a total of around USD$883 million.
This effectively took it from an A4 sheet office print world into the ability to produce professional, bound landscape booklets for example: https://www.pinterest.com/pin/192810427770238709/
About the same time, HP began expanding its inkjet technology from the 'Designjet' wide format printers used in the CAD/GIS sector and large format poster signage, into what today is known as 'Pagewide' inkjet – enabling commercial print quality from industrial inkjet presses up to 2.8 metres wide. Further acquisitions in 2005, that of Scitex Vision, McDermid Colorspan in 2007 and NUR Macroprinters in 2008; cemented HP's leadership in industrial wide-format printing for signage, display, short-run packaging and billboards.
Founded on the two pillars of inkjet and electrostatic toner imaging, HP has successfully integrated these acquisitions into its global business model to attack the market that uses most ink and consumables – industrial level printing. Not one of its products uses conventional printing plates or ink – they are all digital, which is the major differentiator between HP and Heidelberg. Digital printing, whether inkjet or toner, is slower than conventional offset, gravure and flexography but has the economic advantage of being able to produce just a few copies directly from digital data, on-demand. Tedious prepress preparation of plates or cylinders is eliminated – it's all data-driven which of course is HP's forté
HP's crown jewels
The jewel in the crown of HP's acquisition strategy must surely be Indigo. Backed by strong investment in R&D and product development, the Indigo range now covers B3 and B2 commercial sheetfed presses; the world's top-selling narrow web label press – the 340mm width WS6800; presses for addressing both flexible and folding carton packaging up to 760mm in width, plus a wide range of finishing and converting add-ons from third-part suppliers.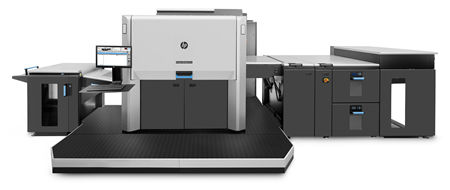 The sheetfed HP Indigo 12000 B2 press is now the biggest selling B2 press irrespective of process type (conventional or digital). The same goes for the WS6800 series label presses – they outsell new flexo label presses in unit terms with an estimated 62% market share of new label presses shipped.
But it's not all about Indigo; HP's own inkjet technology has seen huge recent success in the high-volume markets of book printing and corrugated packaging. This was recently exemplified at Australia's largest book printing site, PMP's Griffin Press near Adelaide.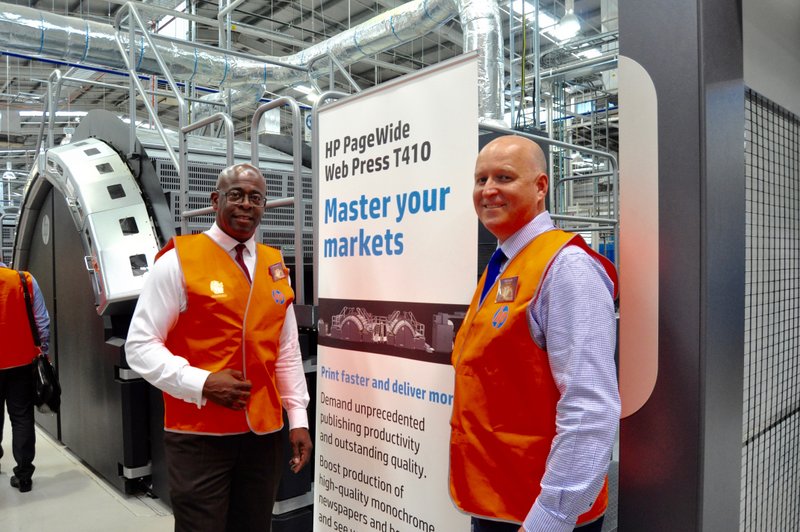 The world leading technology mix includes a web-fed HP PageWide T410 inkjet running 16-page signatures at up to 300 metres-per-minute, HP Indigo 10000 B2 sheetfed digital and HP Indigo 7800 B3 digital presses. In addition a Scodix Ultra Pro digital embellisher with foil station enhances the book covers. It is an all-digital book production system that can produce a single book just as efficiently as a run of 1,000. The book blocks and covers are fed into a Kolbus binding line for completion.
HP Pagewide inkjet technology can also be found in the packaging sector, thanks to its partnership with press manufacturer KBA in Germany. With KBA providing the 'heavy metal' and web handling, HP has developed the T1100S digital packaging press with a web width of 2.8 metres. Deployed for printing liner for corrugated boxes, it can digitally print at an astounding 30,000 square metres per hour. Being digital, this can be a single job or several varied jobs because there are no plates involved. DS Packaging in the UK has already installed a T100S and more are scheduled for installation in Europe and Asia.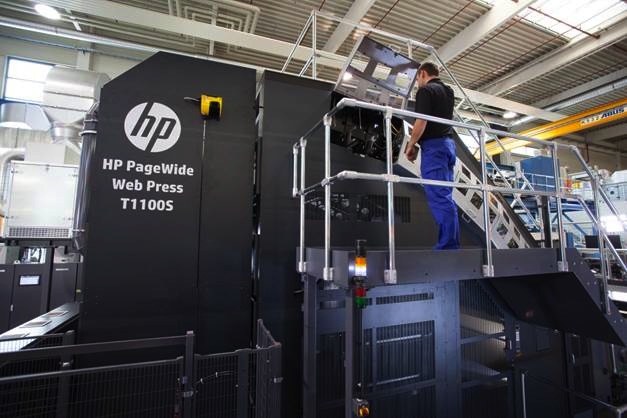 Profits from printing dominate
Even though HP's total revenues have suffered declines in the past two years, it is still a company with over USD$100 billion in sales and returning good dividends to shareholders. Ironically, the tech giant and world's second-largest PC/Laptop manufacturer still makes most of its profits from its printer business.
In only two years since launch in 2014, the Indigo 10000 became the top-selling B2 press with over 200 units installed. In May this year at the Drupa show, it took orders for another 160 of the 10000's successor, the 12000 – almost doubling its installed base in only two weeks. Next year, HP will enter the B1 digital market with the web-fed 50000 model, joining HP's inkjet lineup in the wide-web arena, but with superior 7-colour capability.
As for Heidelberg, happily the company has turned the corner, is back in profit and planning a digital future. Smaller and leaner, the former press giant stated recently: "The investment priorities in the areas of digitalization, digital printing and services are expected to contribute to an average sales growth of up to 4 percent per year."
For now, from a standing start in the year 2000, HP wears the crown as the printing industry's largest supplier of technology.