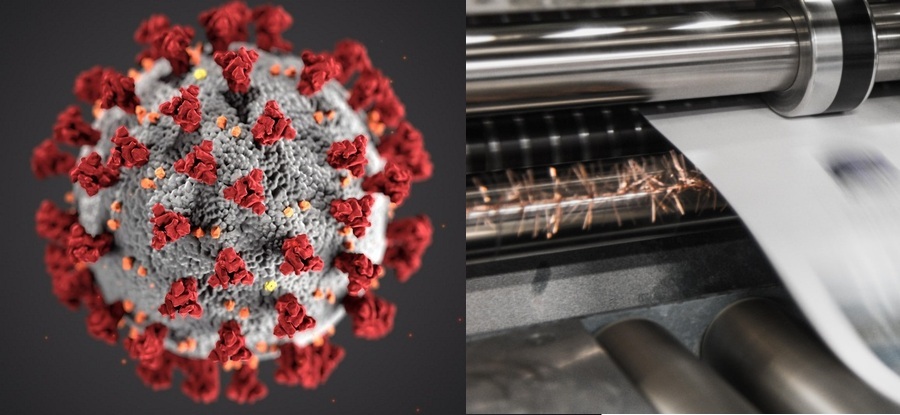 How Covid-19 Has Affected the Print Industry
Covid-19 has had a transformative effect on nearly every facet of our lives. It's stopped us from seeing loved ones, holidays have been cancelled, and the economy is on the brink. Nearly every industry has been affected, including print.
We're going to take a deep-dive on exactly how coronavirus has affected the print industry so far, including predictions on what we can expect in the next 6-12 months. And it doesn't stop there; we'll also consider the longer-term implications of the pandemic on the industry, which we think are going to be significant and transformative to print's survival.
Shopping Returning, But Consumers Wary of Touch
Print has a distinct disadvantage compared to many other industries. It involves a physical product. And as studies have shown (albeit to varying degrees) that coronavirus survives on a variety of surfaces, from plastic, copper, steel, and, yes, paper and cardboard.
For instance, experts estimate that SARS-CoV-2 can survive on cardboard for up to 24 hours. Studies on paper, on the other hand, have shown that coronavirus can persist for anywhere between 3 hours and 5 days (much depends on the amount present).
Someone can touch a simple piece of paper that has been touched by an infected person days ago, and transmission is technically still possible. Even though peer-reviewed studies have shown that the risk of transmission is low, consumers are nevertheless frightened. And it's understandable to see why, with the number of deaths around the globe still increasing several months in. We still do not fully understand the virus, nor do we know when a vaccine will be widely available. Consumers are worried about touching packaged goods, opening mail, and ordering printed materials. They also have less disposable income, affecting demand throughout the print economy. How are these changes in consumer behaviour affecting the industry and its future?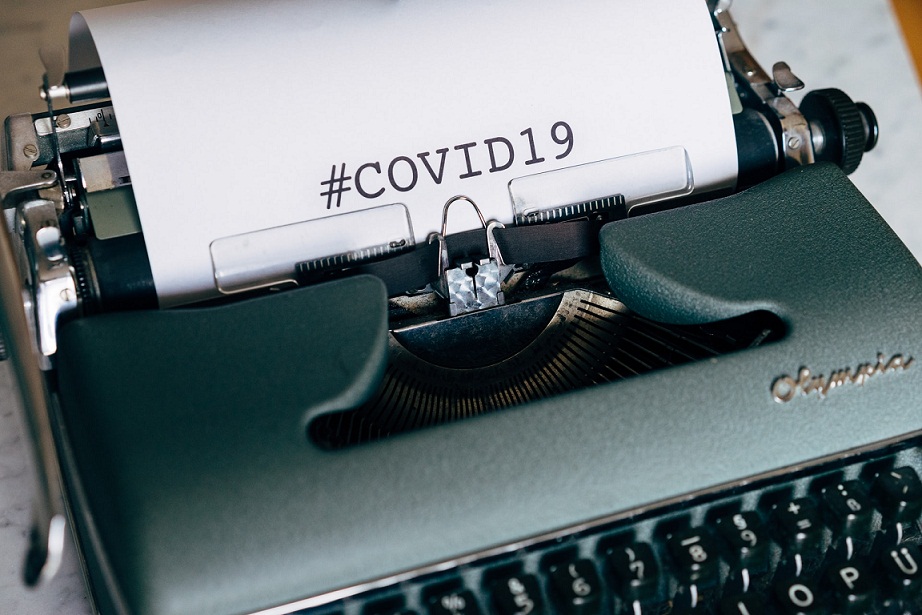 Covid-19 and the Print Industry
While the long-term effects of Covid-19 on the print industry are not yet fully understood, it is clear that seismic change has already occurred.
According to a snapshot survey conducted by Quocirca, print volumes are way down across the board. Print bosses have cited declines of anywhere between 40-50%, figures that may turn out to be catastrophic for the industry's survival.
Of course, this survey does not pretend to encompass the entire industry, yet the findings are nevertheless important and point to some worrying trends. Almost 60% of respondents have seen significant or critical impact to their businesses, while similar numbers see a large decline in demand for print products. 70% conclude that Covid-19 is causing severe industry disruption, with almost 40% expecting 2020 revenues to drop by over 20%.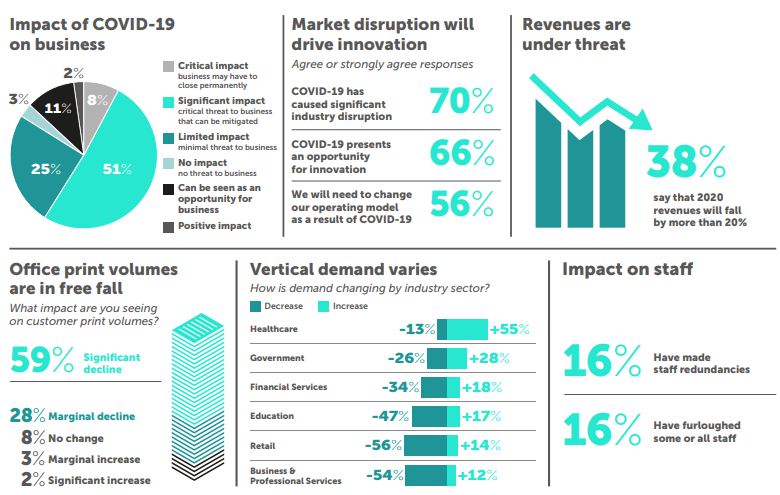 These instant effects on the industry are already having an effect on staff, 16% of businesses have been forced to make staff redundancies, while another 16% have furloughed staff. That is over 30% of print businesses having to make calls on employment just months into the pandemic.
And many business owners are reluctant to expect a quick turnaround, with a quarter believing it will take over a year to recover or, perhaps more worryingly, that there will never be a return to 'business as usual'.
There are several reasons for this sharp decline in demand for print products. For example, with events highly limited, businesses no longer need printed invites for events. Individuals are no longer hosting large weddings or parties. People no longer network over business lunches or conferences, but instead meet via Zoom or Skype. The business card is no longer exchanged the way it once was. 
Some business owners place partial blame at the hands of the government. In Australia, for example, shutdown announcements have been unclear and implemented haphazardly, with consumers unsure about their jobs, whether businesses will be shut down, or the wider economic effects. With people in doubt about the future, spending has been curbed by both businesses and households.
But it's not just about demand. Print businesses are also struggling with the supply side, with materials often not arriving when expected, or with significant delays. Printers are sometimes unable to fulfill orders due to an uncertain supply chain, which again has a negative knock-on effect on the industry. Fortunately, Australian businesses do have the support of the Print and Visual Communications Association (PVCA), which has provided centralised support for individual small to medium-sized businesses. The association has provided answers in the midst of confusion, as well as support for businesses who are struggling.
Calls for Industry Transformation
Many industry experts are worried that print may not survive in its current form, and call for transformative action. Some consider the pandemic as a mere catalyst of an inevitable conclusion: the need for adapt or die strategy.
Some businesses have already implemented extensive measures, such as zero-contact delivery of goods, and Covid-secure pickup locations. Disinfectants and masks have become part and parcel of the office uniform. However, these measures still operate within the bubble of providing service in the 'traditional' sense.
Others call for more radical measures, including moving towards a more digitised process that doesn't eradicate print, but combines it with digital products. It's not a question of either or, but rather creating a strong 1-2 punch between print and digital. For example, it is anticipated that there will be a stronger need for collaboration services, cloud digital workflow solutions, and the digitisation of paper-based processes.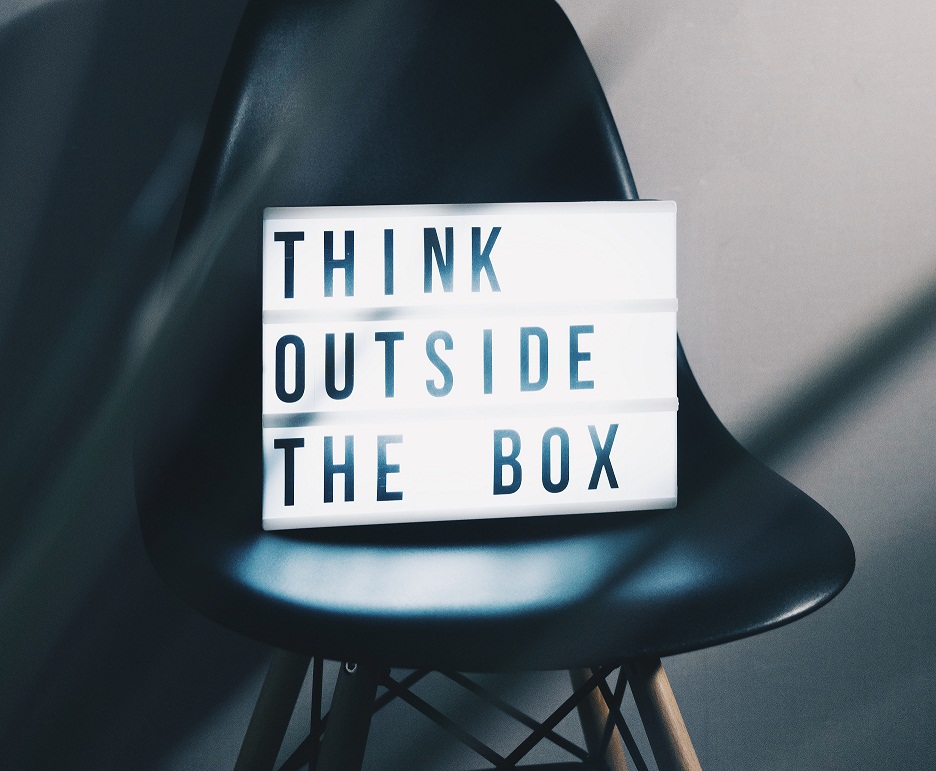 The Print Industry Is Not Immune, but It Is Resilient
Covid-19 has touched every industry, and print is not immune to the pandemic's effect. In fact, as we have seen above, the industry has been particularly affected. Yet there is a silver lining amidst the negativity you'll find in the news. Yes, it is undoubtedly true that the print industry is suffering and that changes will need to happen for it to survive. Businesses will need to pivot and adapt in order to make it to 2021 and beyond. But business owners seem to be largely on board with the changes Covid-19 is hastening, with 79% seeing it as an opportunity to transform their businesses for the better. In the aftermath of coronavirus, expect to see a rejuvenated industry offering a stronger and more diverse product line.