Penrith Printing and Graphic Design
We service customers throughout the local Penrith area, committed to delivering full-service printing to a wide range of businesses. Since Print2Day's founding in 1994, we have supplied customers from the area with copying and binding services, stapled booklets, brochures, leaflets and much more.
Product Highlight: A5 Referral Pads
Print2Day's A5 referral pads (210mm x 148mm) are some of the most popular products in our range, providing health professionals with top-of-the-range solutions at an affordable price point. Using a white 100gsm laser, we can print full colour on both or just one side.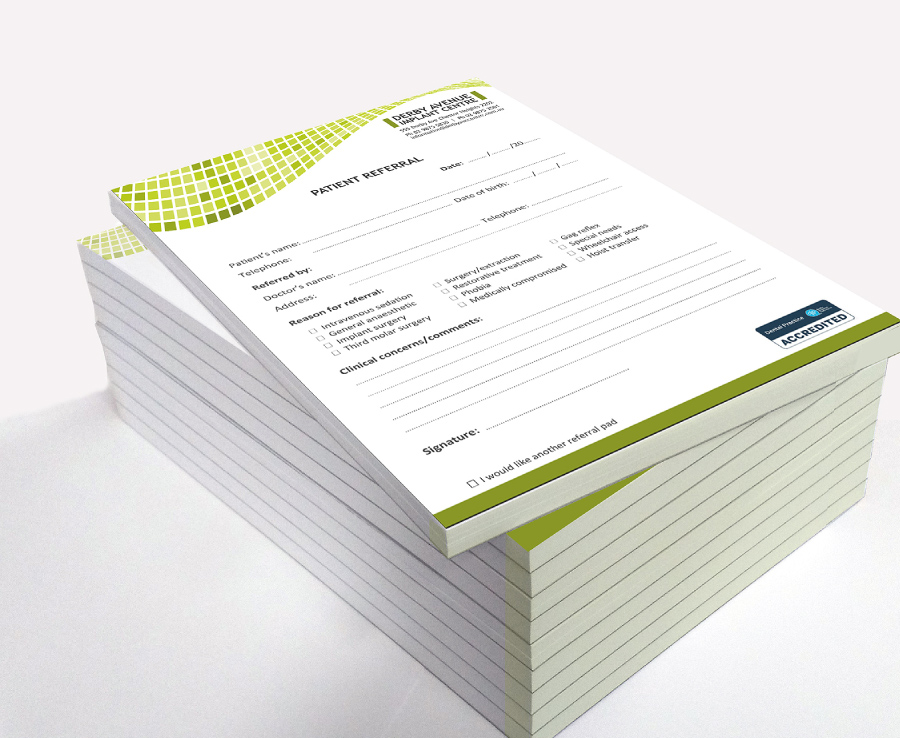 One of our most recent jobs was for Spring Forward Medical Centre, a local family centre providing integrated therapy for the wider Penrith area. They were absolutely delighted with the results of our products, and one of their therapy assistants got in touch recently to let us know just how happy they were:
"I am reaching out today to thank you for our previous order of referral pads. We looked at various printing companies around Sydney and none of them could do what we were asking for. Your service was prompt and the printing job looks fantastic!"
Perfect for all health professionals, our A5 referral pads are affordable, high quality, and can be delivered in 4-5 working days. We always get your approval on the artwork proof before the production begins; we want to make sure our customers are completely satisfied with their orders before shipment.
The Print2Day Process
Most jobs take 3-5 working days for the production process, with another 1-2 working days for delivery. Please make sure to consider NSW public holidays when placing your order.
Not all jobs are equal and we prioritise quality at all times. Some jobs require specialized finishing techniques or they need to be die-cut, and such projects require a slightly longer production time.
Of course, we understand that some projects are urgent. Please inform us if this is the case and we will do our utmost to dispatch your order sooner. We also offer an express delivery option; please contact us for a quote.
100% Free Delivery!
Our quotes include 100% free delivery for most items throughout Australia, unless the product page states otherwise. Of course, you also have the option of picking up your order if this is more convenient.
For average delivery times based on your order and location, please consult the delivery section of our website. Interested in our products or do you have a few more questions before placing an order? No worries; we are happy to help, no matter how big or small your query or order size.
About Penrith
Situated just 56km from Sydney CBD, Penrith is a small city in New South Wales, Australia. The historic town (founded in 1815!) is now effectively seen as a suburb of Sydney, but it retains its own identity and unique highlights.
For example, it is just next to the Nepean River, which is known for its famous Head of the River Boat Race. It also boasts the Museum of Fire, which houses one of the most impressive collections of fire engines in the entire country.
Penrith is also home to the Panthers Rugby League Club, a popular local club and winner of 2 Premiership titles. With big-name players such as Jarome Luai and Brian To'o, the club is a source of pride for Penrith residents.
The town also has a rich history, being named after a town in Cumbria, England. Named by Governor Lachlan Macquarie, the word 'Penrith' actually has another meaning: head or chief ford. Considering its location adjacent to the Nepean River, the naming of the town suddenly makes much more sense!
Get in touch today at 02 9875 5830!